Abstract In 2014, the raw materials industry faced the complicated domestic and international economic situation, actively responded to the downward pressure on the economy, focused on promoting industry management innovation, striving to resolve overcapacity, and vigorously expanding downstream demand. The overall economic operation of the industry maintained a steady growth trend, and the industrial structure adjustment took place. ...

In 2014, the raw materials industry faced the complicated domestic and international economic situation, actively responded to the downward pressure on the economy, focused on promoting industry management innovation, striving to resolve overcapacity, and vigorously expanding downstream demand. The overall economic operation of the industry maintained a steady growth trend, and industrial restructuring was new. progress.

I. Characteristics of raw material industry operation in 2014

(1) The production and operation of the industry is generally stable, but the growth rate is slowing down. In 2014, the growth rate of the added value of the raw materials industry was 8.3%, which was 2 percentage points lower than that of 2013. The growth of petrochemical, steel, nonferrous metals and building materials industries were 7.2%, 7.2%, 11.4% and 9.6% respectively. In terms of output, the growth rate of most products declined. The annual output of crude steel, ethylene, cement and ten non-ferrous metals was 823 million tons, 17.04 million tons, 2.49 billion tons and 44.17 million tons, up 0.9% and 7.6% respectively. 1.8%, 7.2%, down 6.6, 0.9, 7.8, and 2.7 percentage points respectively from 2013.

(2) The economic benefits have improved slightly, but the overall profitability is still low. Benefiting from the sharp drop in iron ore and coal prices, the key statistical steel enterprises in 2014 realized a profit of 30.4 billion yuan, an increase of 40%, but the sales profit rate was only 0.9%, still at the lowest level in the industrial sector. The non-ferrous metals industry achieved a profit of 205.3 billion yuan for the year, down 1.5% year-on-year. The petrochemical industry achieved a profit of 765.2 billion yuan, down 8.5% year-on-year, of which refinery declined by a large margin, down 69% year-on-year. The building materials industry realized a profit of 477 billion yuan, a year-on-year increase of 4.8%. From the perspective of profit composition, the proportion of downstream deep processing links increased. For example, non-ferrous metal mining and smelting decreased by 12.4% and 13.7% respectively, but the rolling processing increased by 11.6%, cement products, lightweight building materials and fiberglass in the building materials industry. The profit growth rate of insulation materials and sanitary ceramics are all higher than 12%.

(3) The prices of major products showed a downward or low volatility. Steel prices continued to slump, and the price index fell to 83.1 points at the end of 2014, down 16.1 points from the same period last year. The overall price of non-ferrous metals fluctuated and aluminum prices rebounded, but still below last year's level. The prices of building materials were generally stable. The average annual price was basically the same as that of the previous year. The cement price continued to fall. In December, it fell to 316 yuan/ton, 39 yuan lower than the beginning of the year. From January to December, the ex-factory price of petrochemical products decreased by 2.6% year-on-year, and the price of 188 products monitored by the Petrochemical Federation fell by 77%.

(4) The growth rate of fixed asset investment slowed down and the industrial structure adjustment accelerated. In 2014, the chemical and non-ferrous metals industries completed fixed assets investment of 1.56 trillion yuan and 691 billion yuan respectively, up 10.5% and 4.6% year-on-year respectively, and the growth rate dropped by 4.1 and 15.2 percentage points respectively. The building materials industry completed fixed assets investment of 1.46 trillion yuan, a year-on-year increase of 14%, and the growth rate was basically the same as the previous year. The fixed assets investment in the steel, electrolytic aluminum and cement industries showed a negative growth, down by 3.8%, 17.8% and 18.7% respectively. The excessive growth of production capacity was curbed, and the industry development was shifting from scale growth to intensional growth.

(5) The pace of technological innovation in the industry has accelerated, and energy conservation and environmental protection have reached a new level. In 2014, the steel industry successfully industrialized a number of new products, Baosteel 600 °C ultra-supercritical thermal power unit steel pipe, Anshan Iron and Steel three series of nuclear power steel, WISCO non-oriented silicon steel, Taigang 0.02 mm precision strip steel and other applications in the downstream key areas Industrialization technologies such as fine ceramics, scintillation crystals, and high-pressure composite gas cylinders in the building materials industry have achieved breakthroughs. In terms of energy conservation and environmental protection, major pollutant emissions and energy consumption indicators of the raw material industry have declined. The comprehensive energy consumption, sulfur dioxide and soot emissions of large and medium-sized steel enterprises have decreased by 1.2%, 16% and 9.1%, respectively, ethylene, caustic soda, The comprehensive energy consumption of calcium carbide decreased by 2.2%, 3.2% and 5.5% respectively. The comprehensive AC power consumption of aluminum ingot decreased by 144 kWh/ton, and the dust removal, denitrification and desulfurization technologies in the building materials industry accelerated application. The cement kiln co-processing development momentum is good.

(6) Export trade has increased substantially, and product grades have improved. In 2014, China exported 93.78 million tons of steel products, a substantial increase of 51% year-on-year, and imported steel products of 14.43 million tons, an increase of 2.5%. Exports and imports of the chemical industry were 162.1 billion and 186.5 billion, respectively, up 11% and 0.6% respectively. The export volume of non-ferrous metals was 77.2 billion U.S. dollars, up 41% year-on-year, and the import volume was 100 billion U.S. dollars, down 3.2% year-on-year. Due to restrictions on raw ore export policies such as Indonesia, bauxite and laterite nickel ore imports decreased by 49% and 33% respectively. The export of building materials industry was 36.1 billion US dollars, up 5.3% year-on-year. The import volume was affected by a large number of precious non-metallic minerals such as diamonds, which increased by 111% to reach 46.3 billion US dollars. The export grade of the products has been improved, and the proportion of high value-added products such as electrical steel strips and cold-rolled thin wide strips has increased. Affected by various factors, the trade friction in the raw materials sector increased sharply in 2014. The steel industry reached 40, ranging from Europe and the United States to Asia and Africa. The chemical industry in the United States launched a double-reverse investigation on my tires, involving a total amount of US$3.3 billion. There have also been many anti-dumping lawsuits against aluminum.

Second, the main problems currently exist

(1) Overcapacity and insufficient demand coexist, and the contradiction between market supply and demand is outstanding. In 2014, the raw material industry improved its capacity utilization rate by strictly controlling new additions, eliminating backwardness and expanding demand. However, from the overall level of production capacity, it is still at a high level. The steel industry has a crude steel production capacity of 1.16 billion tons at the end of 2014. More than 2,000 new projects have been started in the year. The existing capacity of electrolytic aluminum is 35 million tons, and the cement industry is not much. In 2014, 54 production lines for clinker production were completed, with a total production capacity of more than 70 million tons. The chemical industry started more than 10,000 new projects in 2014. From the perspective of market demand, domestic consumption of bulk raw materials will enter the peak arc zone. The apparent consumption of domestic crude steel in the past three years is 6.7, 7.7, and 740 million tons respectively, which has shown a trend of slowing down. It is expected that under the new economic normal, the overcapacity problem of the raw material industry will exist for a long time, and it will force the transformation of steel, petrochemical, nonferrous metals and building materials industries.

(2) Environmental and security constraints are strengthened, and the market competition environment needs to be standardized. In 2015, new environmental protection laws and emission standards were implemented. A considerable number of steel and cement companies could not meet the requirements. Steel enterprises should increase their environmental protection investment by 13% and operating expenses by about 200 yuan. Especially in areas such as the Beijing-Tianjin-Hebei region and the Yangtze River Delta, the environmental protection supervision of enterprises will be more stringent. At the same time, raw material industrial enterprises have invested heavily and occupied a large amount of funds. They are generally faced with the problems of financing difficulties, slow financing, and expensive financing. In 2014, the financial expenses of steel, chemical and non-ferrous industries increased by 21%, 21% and 20% respectively. The cost is more than three times the profit. In terms of the market competition environment, there are still some cases where law enforcement is not strict, enterprises do not operate environmental protection facilities, and production and sales of counterfeit products.

(3) Some key materials have insufficient support capabilities, and new materials are still a prominent problem in the regulation of strategic emerging industries. In 2014, China's new materials industry accelerated, and a number of high-end metal structural materials and special functional materials achieved new breakthroughs. Some provinces such as Hunan, Jiangsu, Guangdong and other provinces have successively issued special funds and first batch application subsidies and other policy measures, but Compared with strategic demand, developed countries have a large gap in the domestic new materials industry. There is no fundamental change in the dependence of a large number of key materials on imports. For example, 8th generation and 8.5th generation LCD panel production lines have been successfully put into production, but the self-sufficiency rate of key materials such as polarizer, ultra-thin glass substrate and liquid crystal material is not more than 10%, and high-strength and extra-thick steel plates for offshore exploration and production platforms are basically dependent on foreign countries. In 2014, China's largest import of commodity integrated circuit chips, a considerable part of the value of materials.

Third, the 2015 outlook and key work measures

In 2015, with the implementation of the central government's steady growth, reform, restructuring, and Huiminsheng policies, especially the renovation of shanty towns, the construction of infrastructure in the central and western regions, and the major strategies such as the "Belt and Road" Implementation, domestic raw material demand is expected to remain stable overall, it is expected that the growth rate of raw material industry in 2015 will increase by about 8%, and it is expected to maintain a stable development momentum. However, under the overall situation of macroeconomic adjustment structure and transformation, and due to factors such as severe overcapacity, the growth rate of the industry will further slow down, and steel and electrolytic aluminum will face greater difficulties and downward pressure. In 2015, we will focus on the following work measures to promote the stable and healthy operation of the raw material industry economy:

The first is to properly handle the relationship between overcapacity and steady growth. On the one hand, we will resolutely curb new capacity, increase the elimination of backward production capacity and supervision of projects under construction, and on the other hand, vigorously support advanced enterprises to implement technological transformation, product adjustment, and integration of two industries, which are conducive to endogenous growth, and All the way, the coordinated development of Beijing-Tianjin-Hebei, and the strategic layout of the Yangtze River Economic Belt have a number of major projects, encouraging iron and steel, electrolytic aluminum, cement, fertilizer and other excellent and powerful enterprises to carry out mergers and acquisitions, and support qualified enterprises to establish resource mining, smelting and deep processing overseas. base.

The second is to vigorously expand the market demand for raw materials industrial products. Focusing on new urbanization, transportation and water infrastructure, and advanced equipment manufacturing, we will strengthen upstream and downstream cooperation and actively promote the production and application of high-quality, high-value-added products. Relying on high-strength steel, high-performance electrical steel, ship and marine engineering steel and other coordination mechanisms to promote high-end steel applications. Relying on the new aluminum upstream and downstream cooperation mechanism, strengthen the connection between production and demand, and promote the key aluminum materials for aluminum alloy cars and aircraft. Build a public service platform, organize product evaluation and label management, and vigorously promote green building materials. Promote the application of polymer materials in rail transportation and high-end equipment.

The third is to strengthen economic operation monitoring and continue to deepen industry management. In view of the current downward pressure on the steel, chemical, and non-ferrous industries, we have conducted in-depth research and research, closely monitored operational indicators such as production, price, and efficiency, and timely identified problems and tendencies, and proposed targeted countermeasures. Improve the management of industry norms, strengthen the dynamic inspection of announced enterprises, and gradually establish management measures for self-declaration of enterprises and the government to strengthen post-event supervision. Strengthen the linkage and linkage of the announcement list with finance, environmental protection and energy to create a fair and competitive market environment. Establish a coordination mechanism for import and export of key products, properly resolve international trade disputes, and guarantee the export environment.

Fourth, continue to cultivate new materials industry and guide the healthy development of new materials industry. Strengthen the top-level design and formulate industry guidance for promoting new materials development. In conjunction with the overall deployment of the science and technology system reform, we will promote the formulation and demonstration of key new materials development and application of major engineering implementation plans. The research team established new material industry associations, industry alliances and expert advisory committees to carry out the construction of new material statistical systems, certification systems and standard systems. Promote the establishment of the first batch of new materials to apply the risk compensation mechanism, with the use of production, production and use, and strive to form a synergistic innovation system that combines the upstream and downstream benign interactions, production, study and research, and develops a batch of engineering applications. A batch of industrialized mass production will realize the large-scale development of the new material industry.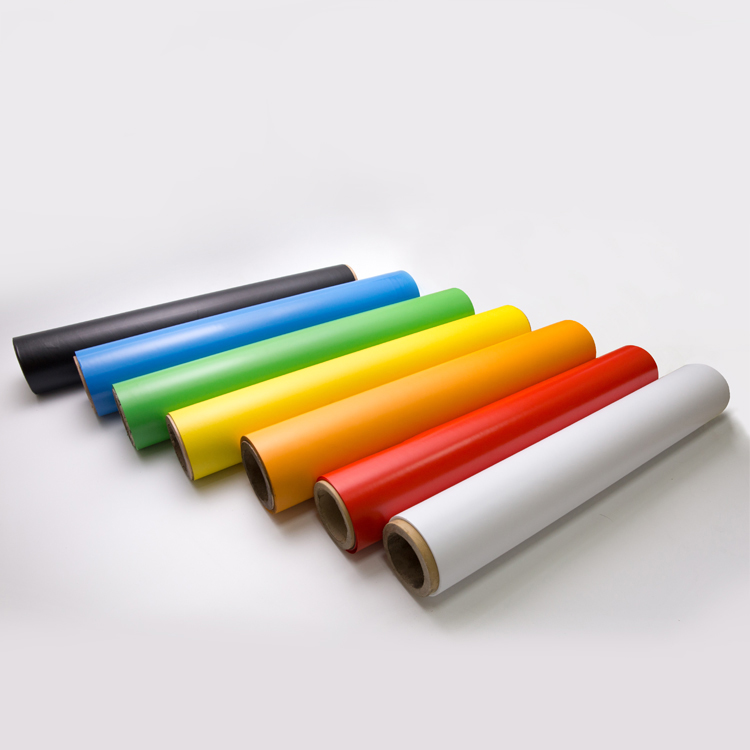 Flexible rubber vinyl magnet roll adhesive Rubber Magnet made of Ferrite Magnet powder, compound rubber and other materials.

By extruding, rolling or injecting, the combination can be made into soft, plastic and flexible magnets with different shapes which are depend on the request of clients.

Type:
Isotropic material: weak magnetism, used on iceboxes, presswork and marketing and promotion premiums
Anisotropic material: strong magnetism, used in such applications as micro-motors and magnet toys.

Size for reference:

(W) 610mm/1000mm
(L) 10/ 20/ 30/ 50/ 900meter
(T) Standard: 0.4 to 0.8mm/1.0mm/1.5mm/2.0mm/ 3.0mm
Special: 0.25mm/0.3mm

Surface Treatment:
Laminated with PVC Sheet
Laminated with Self-adhesive
Chinese excellent standard self-adhesive
USA 3M adhesive
Screen Printing

Application:
• Professional Gifts
• Magnetic Photo Frame
• Car Decoration
• Magnetic Stationery
• Name Card

Rubber Magnet

Rubber Magnet,Rubber Coated Magnet,Rubber Coated Holding Magnet ,Colorful Rubber Round Magnet

Chongqing Great Well Magnet Co.,ltd. , https://www.gwmagnet.com