/*kangxianyue 250*250 was created on 2017/3/29*/ var cpro_id = "u2939694";

If no action is taken, marine plastic pollution may triple in the next decade. Mr. Stefan Ranstrand, CEO of Taurang Group, explained how the beverage packaging deposit system and the sensor-based sorting and recycling solution can resolve the crisis.

The British government recently released a new "Foresight Future of the Sea" report, once again presenting the crisis of marine plastic pollution to the world, prompting more and more people to realize the dangers facing the ocean and take necessary Action to resolve this crisis. According to the report, waste plastics account for about 70% of total marine waste. From 10 years between 2015 and 2025, the amount of waste plastics in the ocean will triple. According to this trend, by 2050, there will be more waste plastics in the ocean than fish!

This crisis will have far-reaching economic and social impacts on many aspects of human activity, including the food supply chain, the global economy, and even employment and trade. Forward-thinking institutions and governments have begun to take action to address this issue, avoiding marine pollution disasters through technological innovations and policies and regulations. The concept of "marine economy" will help us understand and solve long-term problems affecting the marine environment.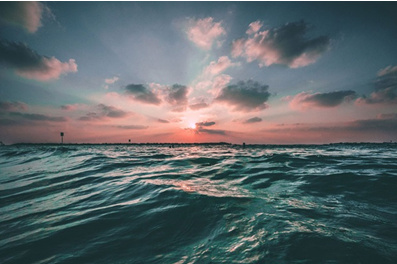 Stefan Ranstrand, CEO of Taurang Group, said that the marine economy directly or indirectly involves all organizations and companies operating in the marine environment, including shipping, fishing, marine renewable energy, marine farms and recycling of used plastics. each field. The "Ocean Future Forecast" report shows that by 2030, the total marine economy will double to $3 trillion, but its healthy development is based on the control and reduction of emissions of waste plastics and other pollutants in the ocean.

The most effective way to reduce marine plastic pollution is to prevent it from flowing into the ocean. But in fact, there are currently about 78 million tons of plastic packaging produced annually worldwide, of which 32% are randomly disposed of in the natural environment after use, and only 10% are recycled, even in this small amount of recycled plastic. More than 80% of them are degraded and regenerated, that is, they are regenerated into products with relatively low quality and value, which is not completely a circular economy.

Mr. Stefan Ranstrand believes that to fundamentally reverse this trend, it is necessary to optimize the recycling and utilization of waste plastics, which can be achieved in two ways:

First of all, it is necessary to let the public participate in the recycling of plastic beverage bottles. This can be achieved by implementing a deposit system and supporting the introduction of a beverage bottle intelligent recycling machine. The intelligent recycling machine is installed in convenience stores, stations and communities. Changing the behaviors of the masses is very effective in promoting the recycling of plastic bottles, cans and glass bottles, and reducing the recycling costs and costs. In Norway, after the implementation of the deposit system and the extensive use of the intelligent recycling machine for beverage bottles, the recycling rate of plastic bottles is now as high as 97%.

Secondly, it uses technology to automatically sort and recycle the renewable materials in the mixed garbage. In the centralized garbage disposal center, automated sorting technology can accurately separate and efficiently recycle metals, plastics, paper, wood and other materials in various types of waste, and ensure the recovery and purity are optimized. Taurang's cutting-edge sorting equipment plays an important role in efficient recycling and simplifies the sorting process in the waste treatment plant.

China has 18,000 kilometers of mainland coastline and 14,000 kilometers of island coastline. The land area under its jurisdiction is 3 million square kilometers. The development potential of the marine economy is huge. At the same time, with the improvement of people's living standards and increasing consumer demand, China is becoming the world's largest plastics producer and consumer. The annual output of plastic products is 76 million tons, accounting for more than 15% of the world's total output. The pollution of the ocean is imminent.

The future of the ocean

The marine pollution shown in the "Ocean Future Forecast" report is a major challenge for humanity. In view of the huge advantages of plastic products, it is not realistic to significantly reduce its application. The only feasible thing is to improve the recycling of waste plastics. Therefore, the solution to the problem of marine plastic pollution is not in the ocean, but on the land, for example, the establishment of a beverage bottle recycling machine in front of the supermarket and the construction of more garbage sorting plants.

Only more and more people are involved in the recycling of plastics, and continue to promote the development of cutting-edge technology to alleviate the problem of plastic pollution in the ocean. In this way, the sustainable development of mankind and the environment can be realized, and the great potential of the marine economy can be more fully developed, leaving a clean blue for future generations.

Stove Accessories,Glass Top Stove Accessories,Stove 45 Degree Elbow,Outdoor Pipe Insulation

Jinan Huancheng Heating Equipment Manufacturing Co., Ltd. , https://www.globalstove.com