Recently, the research team of Li Yue, a researcher of the Micro-nano Technology and Device Laboratory, Institute of Solid State Physics, Hefei Academy of Material Sciences, Chinese Academy of Sciences, has made new progress in the controllable preparation of porous gold-silver-platinum (AuAgPt) alloy nanomaterials and their methanol catalytic The related research results were published in Journal of Materials Chemistry A (J. Mater. Chem. A, DOI: 10.1039 / c8ta04087g).

In recent years, with the rapid economic development, China's demand for energy is increasing. Fossil energy, as the most important energy source currently consumed in the world, not only brings convenience to us, but also causes serious pollution to the global environment. Therefore, the development of clean energy that can replace fossil energy becomes more and more important. A fuel cell is a device that can directly convert the chemical energy in fuel and oxidant into electrical energy. It is the "fourth power generation method" after hydropower, thermal power, and atomic power generation. Because of its energy saving, high conversion efficiency, it is close to The advantage of zero emissions; has become an important way to solve energy and environmental problems. Among them, methanol fuel cells are widely used in portable equipment because of their high efficiency and environmental friendliness. Compared with hydrogen energy, methanol is a cheaper liquid fuel, easy to store, easy to transport, and has a higher theoretical energy density, so methanol fuel cells have very good application potential in the field of new energy.

At present, the catalysts of methanol fuel cells are mainly made of platinum nanomaterials, but the traditional platinum nanomaterials will produce side effects such as poisoning and precipitation during the preparation process, which gradually reduces the effective area activity and quality activity of platinum nanocatalysts, which seriously affects The service life of methanol fuel cells. In addition, the low storage capacity, high price, and high cost of metal platinum required for the preparation of platinum nanomaterials are not conducive to the large-scale commercial application of batteries. In order to improve the catalytic activity and stability of methanol fuel cell catalysts, platinum and platinum-based nanocatalysts with different structures have been prepared by multiple methods, for example: platinum nanoparticles with high index crystal planes, hollow platinum-palladium alloys, platinum Nickel alloys, silver-platinum alloys, etc., but the preparation methods of these materials are mostly complicated in process and long in reaction period, and can not solve the above problems of catalytic activity and stability well.

Li Yue's group successfully prepared a three-dimensional porous AuAgPt ternary alloy nanomaterial catalyst by laser induction. They first reacted Au @ Ag nanocubic cubes with potassium chloroplatinate to obtain Au @ AgPt nanocubic cubes (Au @ AgPt NCs), and then irradiated Au @ AgPt nanocubic cubes with a laser of 670-700 volts, so that Au @ AgPt nano cubes are quickly melted into solid AuAgPt alloy nanospheres (solid AuAgPt NSs), and then part of the silver in the solid AuAgPt alloy nanospheres is removed by chemical etching to produce a monodisperse three-dimensional porous AuAgPt ternary alloy nanosphere (Spongy AuAgPt NSs) (Figure 1, Figure 2). This AuAgPt ternary alloy nanosphere is not only more stable than traditional platinum nanomaterials, but also has a large specific surface area and high density of active sites, easy to adsorb reactants, can effectively improve catalytic activity, and its quality for methanol catalysis The activity (1.62 A mgPt-1) was 4.6 and 5.1 times that of solid AuAgPt alloy nanospheres (0.35 A mgPt-1) and commercial platinum black (Pt black) (0.32 A mgPt-1), respectively. These excellent properties benefit from the porous structure of the material itself and the existence of high-index crystal planes, lattice distortions and twin boundaries on the surface of the material. The results of this study have solved the problems of low catalytic activity, poor stability and short battery life when the fuel cell is used.

The above research was supported by the cross-team project of the Chinese Academy of Sciences and the National Natural Science Foundation of China.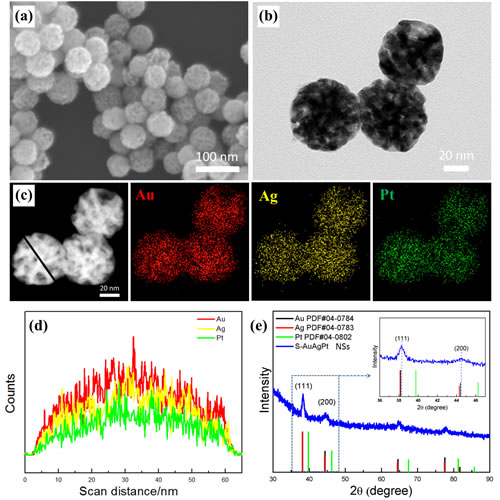 Figure 1. (a)-(b) Field emission scanning electron microscope and transmission electron microscopy images of AuAgPt ternary alloy nanospheres; (c) High-angle annular dark field-scanning projection image and element distribution of AuAgPt ternary alloy nanospheres Figure; (d) Line scan element distribution diagram; (e) X-ray diffraction pattern of AuAgPt ternary alloy nanospheres.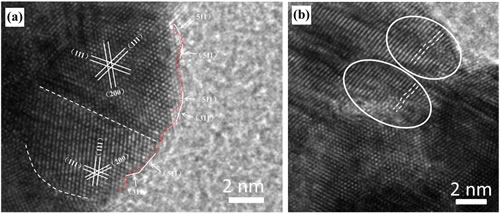 Figure 2. HRTEM image of AuAgPt ternary alloy nanospheres. (a) Twin boundaries and high-index crystal planes present in the particles; (b) Local enlarged view of lattice distortion.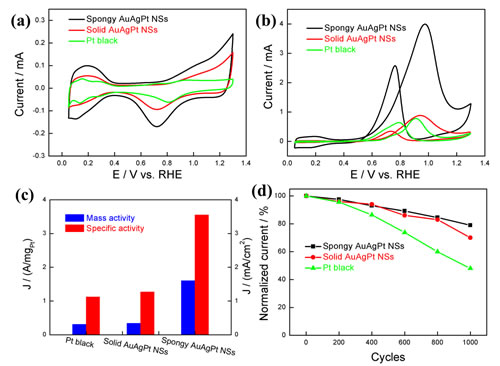 Figure 3. Electrocatalytic performance test of AuAgPt ternary alloy nanospheres, solid AuAgPt alloy nanospheres and platinum black methanol. (a) Cyclic voltammogram measured in 0.1 M HClO4 solution saturated with nitrogen; (b) Methanol oxidation curve measured in 0.1 M HClO4 + 0.2 M methanol solution; (c) Comparison of methanol oxidation activity of different catalysts Histogram; (d) Comparison chart of stability test.

It is an efficient, high-quality, economic, widely used in livestock, poultry, aquaculture food and nutrition-type additives.




Efficacy

1. As a high efficient methyl donor, it can partly replace methionine and choline chloride, and reduce feed cost. Its biological potency can be equivalent to three times DL-methionine, 50% choline chloride 1.8 times.

2. Promote fat metabolism, improve lean meat ratio of livestock and poultry, improve meat quality, reduce meat ratio.

3. Food attractant. Improving feed palatability is an ideal growth inducer for livestock, poultry and aquatic animals.

4. It's a buffer for osmolarity. Can improve the cold, heat, disease process and other ecological environment changes to adapt to increase the survival rate of juvenile fish, shrimp.

5. Maintain the intestinal function, and anti-coccidian drugs have a synergistic effect.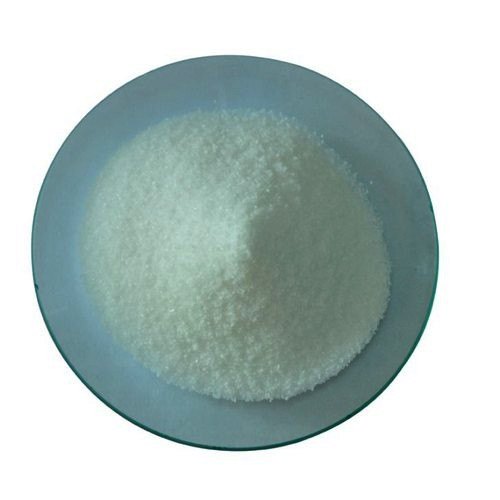 Technical indicators:
| | | | | | |
| --- | --- | --- | --- | --- | --- |
| Items | Indicator I | Indicator II | Indicator III | Indicator IV | Indicator V |
| Appearance | White crystalline powder | White crystalline powder | White crystalline powder | White crystalline powder | White crystalline powder |
| Dry Base content | 98% | 98% | 98% | 95% | 70% |
| As | ≤2ppm | ≤2ppm | ≤2ppm | ≤2ppm | ≤10ppm |
| Heavy metal(Pb) | ≤10ppm | ≤10ppm | ≤10ppm | ≤10ppm | ≤30ppm |
| Scorch residue | ≤0.5% | ≤0.5% | ≤1.0% | ≤4.0% | ≤28% |
| Dry weight loss | ≤0.1% | ≤0.2% | ≤1.0% | ≤1.0% | ≤1.0% |
Packing: 25Kg paper-plastic composite bag lined with moisture-proof film bag.

Storage: placed in a dry and ventilated place, sealed storage, caking can be used, does not affect the quality.

Period of validity: one year




Other related items of our company:
1. Hydrazine Hydrate
2. Azodicarbonamide
3. 2-aminophenol
4. Ferric Chloride Anhydrous
5. Choline Chloride

Betaine Hydrochloride CAS NO.590-46-5

Betaine Hydrochloride,betaine hydrochloride buy,betaine hydrochloride for sale,betaine hcl benefits,betaine hydrochloric acid,betaine hydrochloride powder

Jinan Forever Chemical Co., Ltd. , https://www.jinanforever.com